David Guttman, PhD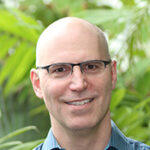 Professor
Department(s): Cell & Systems Biology, Ecology & Evolutionary Biology
Location: Earth Sciences Centre, 25 Willcocks St.
Email: david.guttman@utoronto.ca
The Guttman lab aims to understand how bacteria adapt to, and manipulate their hosts. The lab integrates evolutionary and comparative genomics, molecular and functional biology, and computational & statistical analyses to identify bacterial virulence factors and characterize their role in host specificity and host immune modulation. His group focuses on a number of related questions, including: the evolution and function of secreted effectors, which can either promote bacterial virulence or elicit host immunity depending on the specific host-microbe interaction; very fine-scale evolutionary genomic studies of host-associated bacterial populations to determine how lineages evolve over the course of disease development; and the characterization of microbial community (microbiome) diversity in plant and human hosts.
Selected publications: